Profile: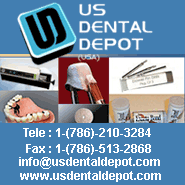 US Dental Depot offers all types of Dental Products at a discount price. We represent companies from South America, North America and Korea with a worldwide distribution from Miami, at almost factory prices.
We also provide Acrylics, Diamond Burs, Hand pieces for Clinic & Lab, Alloys for porcelain and partials, Model Trimmers, Vacuum Mixers, Sand Blasters, Porcelains, Zirconia Blocks, Abrasive and Waxes of all types. We stock various brands and styles of dental instruments.
We specialize in the dental laboratory profession. We intend to build strong relationship with our customers, creating complete confidence both in our knowledge and our support network.


| | |
| --- | --- |
| Specials | Spotlights |
| Acryl Heat | Acryl Mon |
| Preventive | Adhesives and Cements |
| Aluminum Oxide | Articulator Paper |
| Bleaching Products | Boxes & Packaging |
| Bunsens | Burs Carbide |
| Burs Diamond | Burs Sintered |
| Casting Units | Cartridges Aluminum Empty |
| Composite | Cements and Liners |
| Disposables | Curing Units |
| Flexible Nylons | Dowel Pins |
We have provided a toll free number for the benefit of our global buyers so that they can contact us freely. We offer a variety of dental products and the buyers can send their feed back online.
Essence Dental Products | New Stetic Line | Ceratec Porcelain | Keystone Products
Edit or Enhance
this Company (
8412
potential buyers viewed listing,
1537
forwarded to manufacturer's website)