Profile: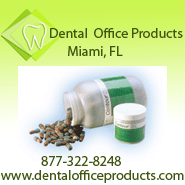 Dentalofficeproducts.com is an online dental supplies resource for all dental practices. We offer a good assortment of dental practice supplies, dental products, small dental equipment and outstanding service geared to make all dental practioners and staff productive & profitable.
Alloys
Our Dispersed Phase Amalgam Alloy is a condensable alloy that exhibits handling characteristics and high compressive strength. It is available in regular and fast-setting formulas. It has different percentages of Copper-Silver and has physical properties & a high resistance to corrosion. Dental alloys have high compressive strength that minimizes the risk of restoration fracture for small or large restoration.
Anesthetics
Our Sultans Topex Topical Gel is Benzocaine 20% gel for topical use before dental procedures. Our Topex Metered Spray safety feature allows only 50 mg per metered spray. Each metered spray delivers approximately 6mg of Benzocaine.
Articulating Paper
Our Dental Articulating paper is a soft, finely paper with a textured finish. It is specially formulated with super-sensitive coating to provide a sharp, clean mark on all surfaces, including natural teeth, porcelain, synthetics and dental metals in a wet or dry field. Our Occlude-Pascal is an erosol powder for articulating markings.
Cements and Liners
Dental cements are composite materials made from different powders mixed with different liquids such as phosphoric acid, eugenol, and polyacrylic. The liquid partially dissolves the powder particles and forms a matrix which becomes hard and act as glue and is used to cement Crowns and Posts.
Dental Cosmetics and Bonding
Our Acid Etching Gel is a high quality, non drying medium viscosity gel. It does not run and stays in place making it suitable for dental work. Syringe is large and comfortable to use and makes placement of acid etching gel accurate. Charisma's high strength and wear resistance provide long lasting restorations. Clear dental celluloid strip gives a bright finish to the filling. It is used as a separator matrix between teeth, composites and amalgams. Herculite XRV™ is a microhybrid composite developed using the Vita® shade system.
Dental Burs
We provide 12 Blade dental burs for finishing or trimming. These burs are used for proper finishing and contouring. Our bur holder holds 36 burs FG. Our diamond burs are characterized by an exceptional dense diamond coating that provides rapid grinding without pressure.
Dental Disposables
We provide Economical 5 oz Plastic Dental Cups with embossed pattern and with a smooth top. We offer these plastic drinking cups in various colors to fit the dental office decor. Our Cotton Roll Dispenser is made of durable plastic making loading and dispensing cotton rolls easy. Our cotton tip applicators are used to apply topical anesthetics or other medicaments. Dental bib clips feature stainless steel chain and colored plastic alligator clip ends for secure gripping.
Dental Instruments
Our stainless steel cleaid discoid dental carver is used to carve anatomical features and trim any excess materials left over on the tooth and gums. Our Cryer root elevator is made of polished medical grade stainless steel. We provide dental elevators with stainless steel tip with aluminum handle and autoclavable. Our dental mirror handles are available in both simple stem and cone socket. We also offer dental excavators in different sizes. Our Dental explorer (sickle probe) is made of medical grade stainless steel.
Dental Handpieces | Dental Retraction Material | Dental X-Ray Products | Endodontics | Impression Material | Dental Retention Pin | Bite Wing Tabs | Dental Film | Hemodent Liquid | IsoFluid Ear Loop Face Mask | Super Bib Clips | Hager toothbrush | Sultan Topex Prophy Paste | Upgrade Prophy Angles | Flow X DV58 Dental Film | Kodak Insight IP 22 | Gluma Comfort Bond/Desensitizer
Edit or Enhance
this Company (
3982
potential buyers viewed listing,
997
forwarded to manufacturer's website)